Antibacterial drugs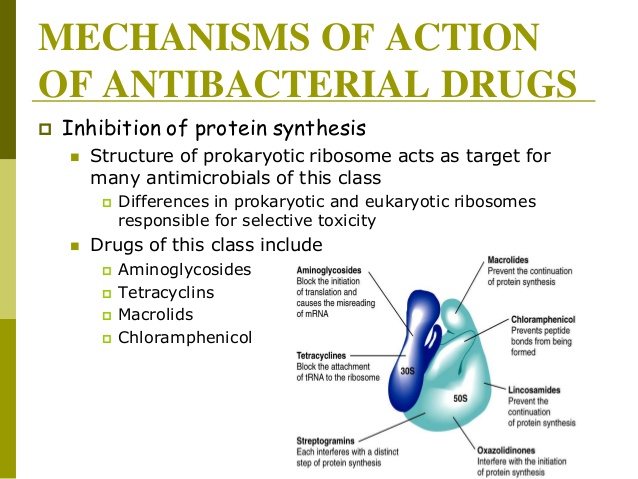 1. Beta-lactam antibiotics
1) Penicillin:
a) Natural (active against streptococcal infections, except Str.pneumoniae, Str.faecalis): benzylpenicillin; dentists; benzathine benzylpenicillin (bicillin 1); benzathine benzylpenicillin + benzylpenicillin potassium salt + procaine benzylpenicillin (bicillin 3); benzathine benzylpenicillin + benzylpenicillin procaine (bi-tsillin-5);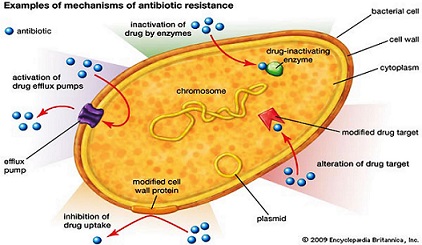 b) semi-synthetic (destroyed β-lactamases, high activity in combination with β-lactamase inhibitors, the lack of effect in the transformation of penicillin binding proteins) izoksazolilovaya group (oxacillin, cloxacillin, flucloxacillin); aminopenicillins (ampicillin, amoxicillin); karboksipenitsilliny (carbenicillin, ticarcillin, karfetsillin, karindatsillin); ureidopenitsilliny (azlocillin, mezlocillin, piperacillin); Combined penicillins (ampicillin / oxacillin, ampicillin / cloxacillin, amoxicillin / cloxacillin);
c) ingibitorzaschischennye (ampicillin / sulbactam, unazin, amoxicillin / clavulanate, ticarcillin / clavulanate, piperacillin / tazobactam).
2) Cephalosporins: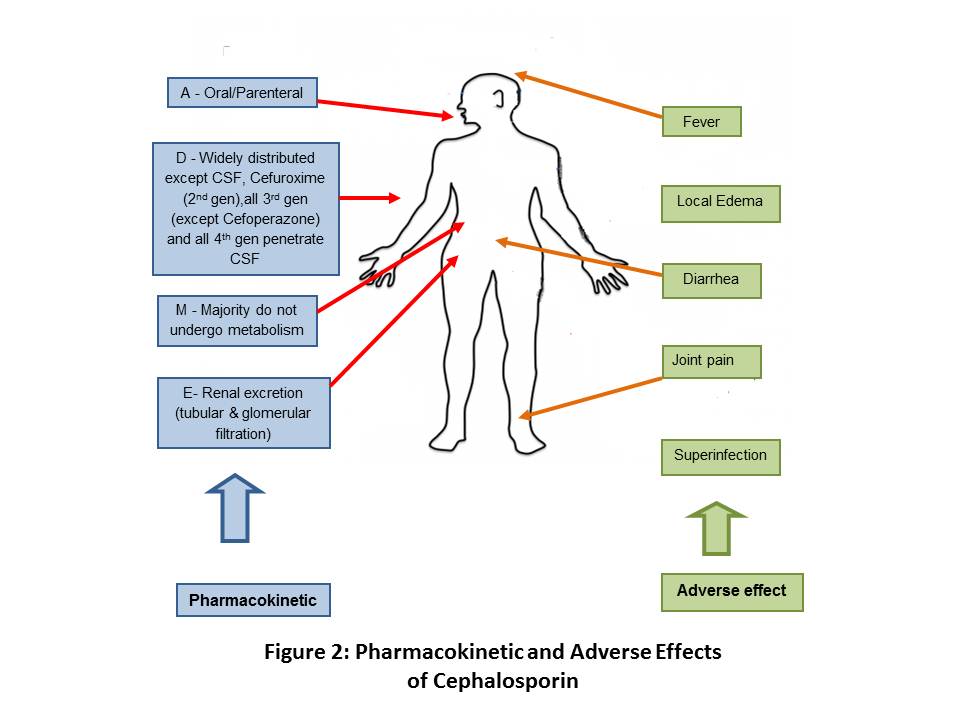 1st generation (reduced activity against Gram-negative organisms): cefadroxil, tsefazalur, tsefazedon, cefazolin, cephalexin, cephalothin, tsefapetril, cephapirin, cefprozil, cephradine, tseftezol;
2nd generation (more active against Gram-negative microorganisms inactive against enterobacteria, tsitrobakter, Serratia, Klebsiella, Proteus vulgaris, Pseudomonas aeruginosa): cefaclor, cefamandole, tsefmetazol, tsefminoks, cefoxitin, tsefonitsid, tsefotetan, cefotiam, tseforanid, tsefroksadin, tsefuzonam , cefuroxime, kimatsef, cefuroxime axetil;
3rd generation (highly active against most strains of Gram-negative microorganisms, in the last 10 years - the loss of efficiency, which is related to the ability to induce the formation of .beta.-lactamases: loracarbef, moxalactam, cefdinir, cefetamet, ceftazidime (gepatsef, tsefobid), cefotaxime, ceftazidime, tseftum, ceftriaxone (oframaks);
4th generation (balanced antimicrobial spectrum against Gram-positive micro-organisms (metitsillinchuvstvitelnye staphylococci, streptococci, pneumococci, anaerobes) and Gram-negative bacteria (Enterobacteriaceae, Neisseria, Haemophilus influenzae, Pseudomonas, atsinetobakter), are resistant to hydrolysis by .beta.-lactamases): cefepime, tsefklidin , tsefluprenam, tsefozopran, cefpirome, cefquinome.
3) Ingibitor-saved cephalosporins: cefoperazone / sulbactam, ceftazidime / clavulanate.
4) The carbapenem (freely penetrate through the channels of the membrane of the bacterial cell, a specific chemical structure defines drugs increased resistance to plasmid and chromosomal β-lactamases; reduce the release of endotoxin, endotoxemia blocking, reduced sensitivity of P.aeruginosa, natural resistance in Staphylococcus aureus, MRSA, Stenotrophomonas maltophilia): imipenem, meropenem, invanz (ertapenem MSD), baypenem, panipenem, dithiocarbamate carbapenem, L-740, L-345, TO-2727, IN-3482.
5) Monobactams (comparable in range with aminoglycosides against Enterobacteriaceae, Pseudomonas aeruginosa, inactive against anaerobes and Gram-positive bacteria, can be used to treat patients with hypersensitivity to β-lactam antibiotics): aztreonam, oksimonam, krumonam, pirazmonam, tigemonam.
2. Aminoglycosides (pronounced, irreversible politoksichnost (nephrotoxicity, ototoxicity, neuromuscular blockade conductivity) have no activity against anaerobic infections, pneumococcus natural resistance to gentamicin; pronounced immunosuppressive effect):
1st generation: streptomycin, monomitsin, kanamycin.
2nd generation: gentamicin, tobramycin, sizomitsin, netilmicin.
3rd generation: amikacin (resistant to virtually all β-lactamases, a wide spectrum of activity, least toxic) amitsil, dibekacin, isepamitsin, daktimitsin, arbekatsin (lowest politoksichnost, extended spectrum of activity).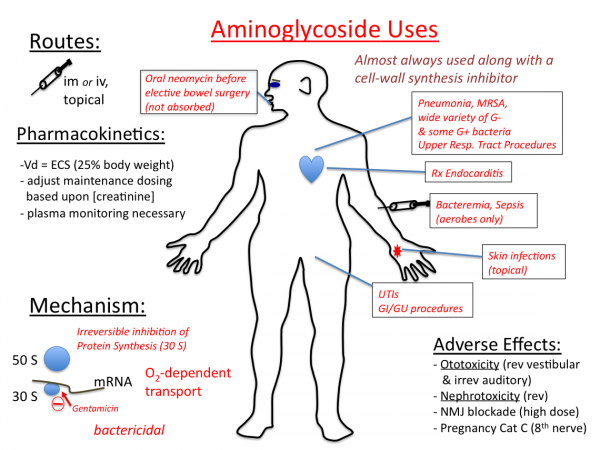 3. The quinolones and fluoroquinolones (PC):
1st generation (limited spectrum of activity, mainly gram-negative rods, poor absorption and distribution used in the treatment of uncomplicated urinary tract infections).
Fluorinated quinolones (nalidixic acid, oxolinic acid, pipemidic acid).
2nd generation (pronounced activity against Gram-negative bacteria, enteric bacteria, campylobacter, katarralis Moraxella, Legionella, Haemophilus influenzae, meningococcus): ciprofloxacin (tsifran), ofloxacin (zinotsin), pefloxacin, norfloxacin, lomefloxacin, fleroxacin, levofloxacin, enoxacin.
3rd generation (pronounced activity against gram-positive flora, particularly pneumococcus and anaerobic infection of MRSA activity with respect to, mycobacteria, chlamydia): sparfloxacin, moxifloxacin (Avelox), klinfloksatsin, gatifloxacin, gemifloxacin.
4th generation (high activity against resistant and multi-resistant infections): tosufloxacin, sitafloxacin, rufloksatsin, pazufloksatsin, methylpiperazinyl fluoroquinolone GG 55-01.
4. Polymyxin (high toxicity, recently practically used) polymyxin M, polymyxin B sulfate, polymyxin E, colistin sulfate, sodium kolistemetat.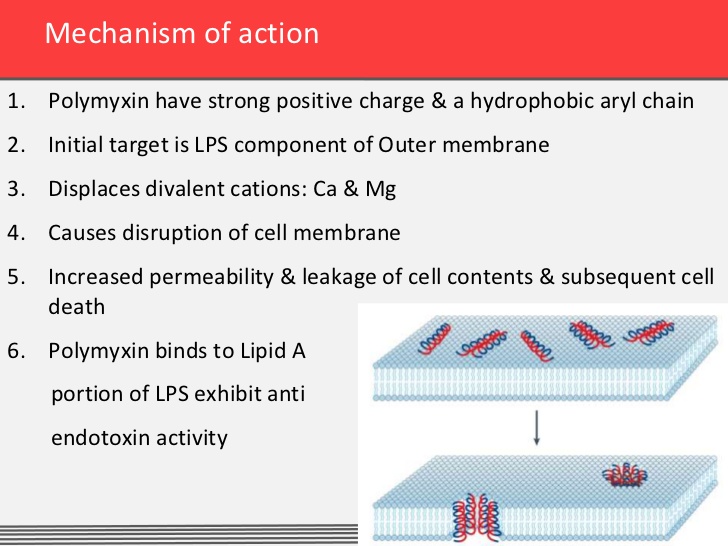 5. Antibacterial macrolides.
Macrolides-azalides - azithromycin azimed (least toxic antibiotic activity against Gram-positive cocci and intracellular pathogens - Chlamydia, mycoplasma, campylobacter, legionella).
Macrolides, ketolides - erythromycin atsistrat, the HMR-3004, the HMR-3647 (high activity against enterococci, including nosocomial, vankomitsinrezistentnyh mycobacteria strains Bacteroides).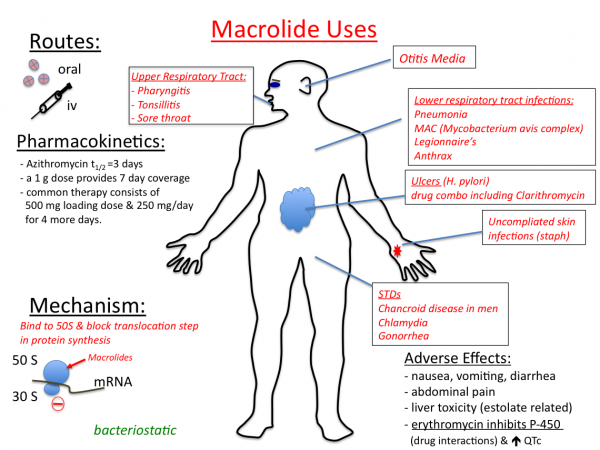 6. 8-oksihinolony (hardly used due to inefficiency in the treatment of urinary tract infections, a narrow spectrum of activity and the development of severe reactions): nitroksolin.
7. Glycopeptides (drugs of choice for the treatment of enterococcal infections MRSA, resistant to both antibiotics 8-10): vancomycin, teicoplanin.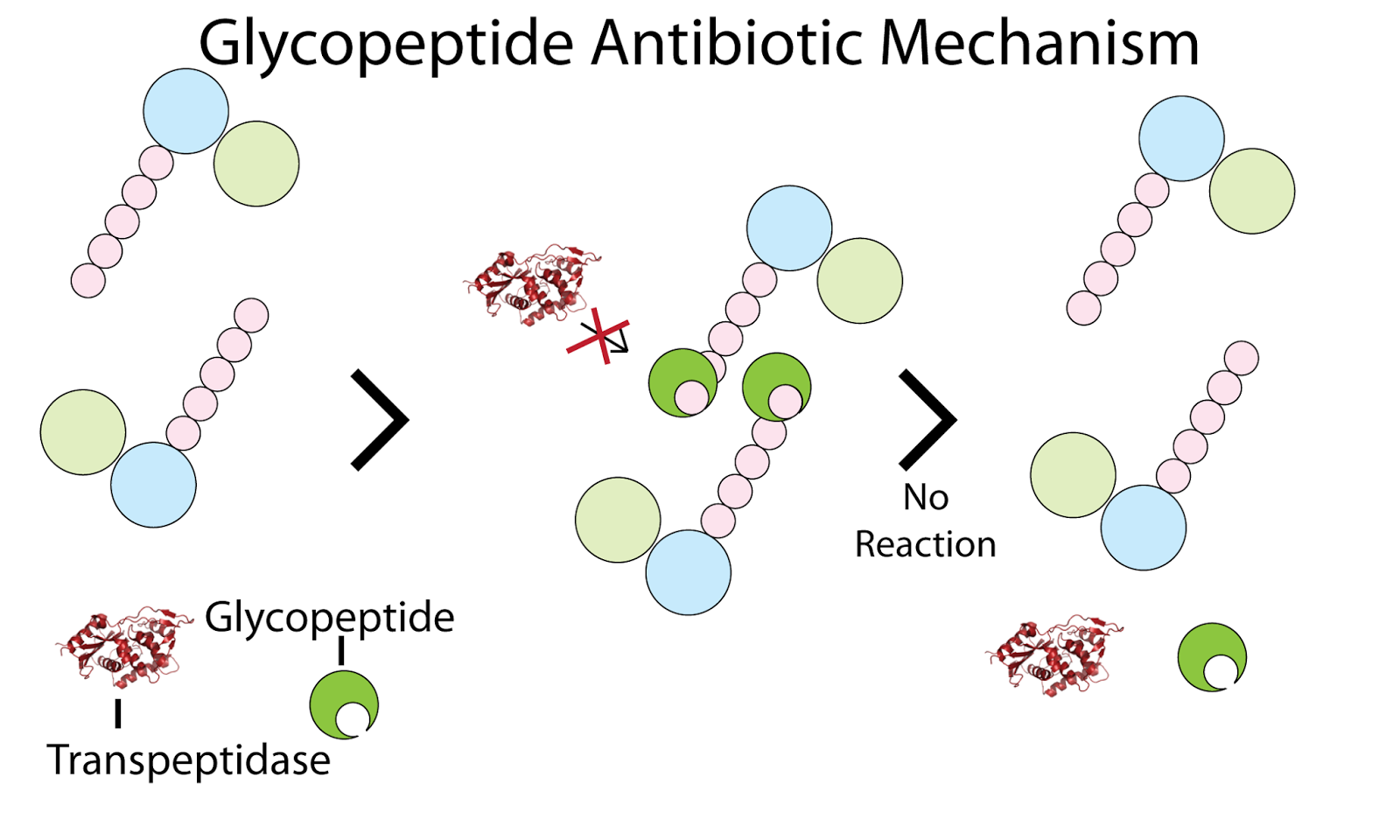 8. Nitroimidazoles (high activity against anaerobic bacterial and protozoal infections) aminitrozol, metronidazole, ornidazole, tinidazole, nimorazol, secnidazole, tenonitrozol.
9. Preparations of different groups: mupirocin, fosfomycin.
II. bacteriostatic drugs
Tetracyclines (broad activity against gram-positive and gram-negative microorganisms, drugs of choice for the treatment of rickettsial diseases, plague, brucellosis, tularemia, typhus, infections with intracellular localization, but use is limited due to the high toxicity and a large number of strains tetratsiklinrezistentnyh):
- Tetracycline, oxytetracycline, doxycycline (vibramitsin) metatsiklin, glitsiltsiklin;
- Chloramphenicol (antibiotic of choice in the treatment of typhoid, rickettsial diseases and salmonellosis, high activity against meningococcus, Haemophilus influenzae, Bacteroides), corynebacteria, listeria, bacillus, spore-forming (clostridia) and asporogenous anaerobes; active against the epidermal and Staphylococcus aureus, streptococci (hemolytic, pneumococci and enterococci);
- Chloramphenicol (chloramphenicol).
Macrolides are bacteriostatic (broad-spectrum drugs, have a long half-life may be administered 1-2 times per day, widely used in the treatment and prevention of toxoplasmosis meningitis high activity against chlamydia, and legionella):
1st generation (erythromycin, oleandomycin);
2nd generation (spiromitsin, roxithromycin, midecamycin, josamycin, dirithromycin, clarithromycin (klatsid) kitasamycin).
Lincosamides (evidence - infections caused by anaerobic microorganisms, particularly disease bryushnoypolosti and pelvis, destructive pneumonia, abscesses, etc.):
- Lincomycin, clindamycin (dalatsin C);
- Streptogramins (activity against Enterococcus faecium, MRSA and other gram-positive bacteria);
- Sinertsid.
Oxazolidone (high activity against Enterococcus faecium and faecalis, MRSA, Gram-positive bacteria resistant to glycopeptide pneumococci and streptococci other) linezolid, zyvox (Pfizer).
Nitrofurans (extended spectrum against Gram-positive and Gram-negative pathogens, rare acquired resistance, used for kidney infections, urinary tract, respiratory tract, all abdominal infections): furazolidone, nitrofurazone, furazidin, nitrofurantoin, nitrofurantol, furazidina potassium salt, FURAMAG.
Sulfonamide (limited use due to high toxicity and resistance primarily effective against intestinal infections): sulfathiazole, sulfadimidine, sulfaetidol, urosulfan, sulfadimethoxine, sulfalen, sulfaguanidine, ftalilsulfatiazol, salazopiridazina, trimethoprim, poteseptil, potesetta, co-trimoxazole.
III. TB drugs.
Group I high efficiency: isoniazid, rifampicin.
Group II average efficiency: streptomycin, kanamycin, amikacin, amitsil, rifabutin, capreomycin, FH 3rd generation florimitsin, cycloserine, ethambutol, ethionamide, protionamid, pyrazinamide.
Group III low efficiency: Pasco, tioatsetazon.
Preparations of different groups: fuzidin-, spectinomycin.
---
Also, You may leave comment here!
---